Although donepezil (Aricept) is one of the most popular prescription drugs used to improve cognitive function and combat memory loss in dementia patients, the benefits only last for a few months. In addition, many patients still have to deal with its common side effects, such as nausea, difficulty sleeping, and fatigue.
As a result, many patients seek donepezil alternatives. You may be seeking donepezil alternatives if:
You've tried donepezil, but it's no longer effective, the side-effects are too strong, or it has negative drug interactions with your other medications.
Your doctor recommended donepezil but you prefer not to use medication.
You are taking donepezil but want to find out if there is something else you can try.
If that is the case, the good news is that there are many options available to you, including prescription drugs, non-pharmacological approaches, and lifestyle changes that can slow down cognitive decline.
In this article, we'll briefly cover medication and therapies that can be used for dementia patients, as well as our EMPOWER program at Neural Effects. We use a combination of cognitive stimulation therapy (CST) and exercise to slow down progression of symptoms and improve patients' quality of life.
Neural Effects uses the latest evidence-based techniques to diagnose and help dementia patients. We are located in Provo, Utah, and serve anyone in Salt Lake County or the Utah County area. We are in network for most types of medical insurance. Schedule your evaluation today.
About Donepezil (Brand Name: Aricept)
Before we dive in, here's a quick overview of donepezil and how it works. Donepezil is primarily used to treat early stage dementia symptoms in patients who have Alzheimer's disease. Donepezil is in a class of medications called cholinesterase inhibitors.
Studies show that donepezil can improve cognitive functions such as memory and attention by increasing the amount of a compound in the brain called acetylcholine. Acetylcholine helps brain cells communicate better with each other, but levels of this compound can be very low in dementia patients. In addition to Alzheimer's, donepezil can also benefit patients with Lewy body dementia, vascular dementia, and dementia associated with Parkinson's disease.
Donepezil is not a cure for dementia. However, it can help with several symptoms of Alzheimer's disease, including:
Forgetting recent conversations
Forgetting how to do simple tasks
Thinking slowly
Taking longer to reply in a conversation
Finding it difficult to understand complicated things
Struggling to manage money and paying bills
Feeling anxious
Avoiding tasks or duties
Shying away from social activities
The downside is that donepezil can also cause unwanted side effects, including diarrhea, vomiting, loss of appetite, muscle cramps, nausea, difficulties sleeping, and fatigue.
What Other Prescription Drugs Can I Take Instead of Donepezil?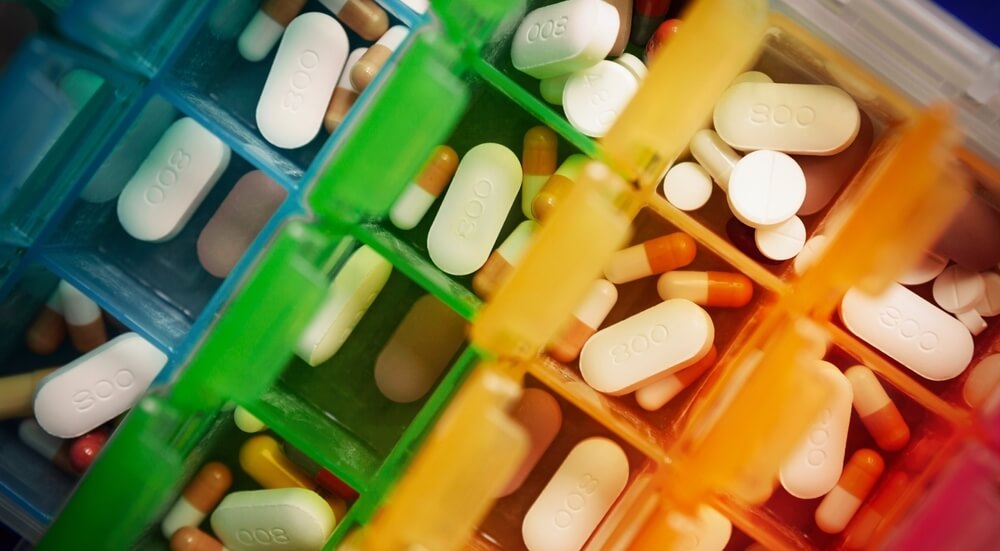 If you are looking for an alternative medication to donepezil, there are a few other prescription drugs available to dementia patients:
Other acetylcholinesterase inhibitors

Galantamine (Brand name: Razadyne)
Rivastigmine (Brand name: Exelon)
Glutamate antagonists

Memantine (Brand name: Namenda)
Combination of donepezil and memantine (Brand name: Namzaric)
Aducanumab (Brand name: Aduhelm)
Galantamine (Brand Name: Razadyne)
Galantamine is another cholinesterase inhibitor approved by the Food and Drug Administration (FDA) to treat mild to moderate Alzheimer's disease. Other non-FDA-approved uses of galantamine include vascular dementia, mixed dementia, dementia associated with Parkinson's disease, and frontotemporal dementia.
Clinical trials showed significant improvements in terms of cognitive function, behavior, and daily activity. In addition, there is also some evidence that galantamine can delay the need to enter a nursing home in some dementia patients.
Common side effects include nausea, vomiting, diarrhea, loss of appetite, extreme tiredness, dizziness, and headaches.
Rivastigmine (Brand Name: Exelon)
Rivastigmine is another option when it comes to cholinesterase inhibitors. Rivastigmine was approved by the FDA in 2000 for treatment of Alzheimer's and Parkinson's disease-related dementia. Similar to galantamine, multiple clinical trials showed significant improvements in cognitive function and quality of life.
This drug is available as a capsule, a solution to be taken by mouth, or as a transdermal skin patch. The patch may be a suitable alternative for patients with gastrointestinal problems or difficulties swallowing.
Common side effects include upset stomach, nausea, vomiting, diarrhea, loss of appetite, and weakness.
Memantine (Brand Name: Namenda)
In 2013, the FDA approved a drug for the treatment of dementia called memantine. Memantine is classed as a glutamate antagonist.
Memantine inhibits the activity of glutamate in the brain. Studies show that this drug can help with symptoms like being forgetful, feeling confused, or feeling anxious.
The most common side effects of memantine are dizziness, headaches, constipation, and shortness of breath.
Combination of memantine and donepezil (Brand Name: Namzaric)
Namzaric is a combination of donepezil and memantine. It's used primarily to treat confusion from moderate to severe Alzheimer's disease. The FDA approved Namzaric in December 2014. Initially, the agency authorized it for patients who were already taking donepezil and memantine, but since July 2016, patients taking donepezil only can also be prescribed Namzaric.
Clinical trials showed that patients taking this combination improved memory, awareness, and the ability to perform daily functions.
Possible side effects include nausea, vomiting, diarrhea, loss of appetite, headache, and dizziness.
Aducanumab (Brand Name: Aduhelm)
Aducanumab is a new drug recently approved by the FDA to treat patients with Alzheimer's disease. This drug targets and removes deposits of amyloid plaques which accumulate in the brain of dementia patients. These clumps are toxic to brain cells and eventually kill them.
Clinical trials confirmed this drug significantly reduced amyloid plaques in the brain, and it potentially helped slow down the rate of cognitive decline. However, some of the trials had to be stopped due to safety concerns (serious side effects) before they were completed. Aducanumab's approval has been heavily criticized by the scientific community, and several medical associations are advising against prescribing this drug to dementia patients.
Side effects include swelling and bleeding in the brain, headaches, confusion, nausea, and increased risk of falls.
Treatment at Neural Effects: The Best Non-pharmacological Alternative to Donepezil
If you prefer to avoid medications and are looking for a non-pharmacological alternative to donepezil, we believe we have one of the best treatment programs available in the United States at the moment at Neural Effects.
In our EMPOWER program, we combine a type of therapy called cognitive stimulation therapy (CST) and aerobic exercise to treat dementia patients. Multiple studies show how CST is beneficial by itself for dementia patients, but we can boost this effect even further by having patients do a short session of physical exercise before therapy.
This works due to a phenomenon in the brain called the post-exercise cognitive boost (PECB). PECB triggers the release of an important neurotransmitter in the brain called brain-derived neurotrophic factor (BDNF), which promotes learning and memory and makes the brain more receptive to change.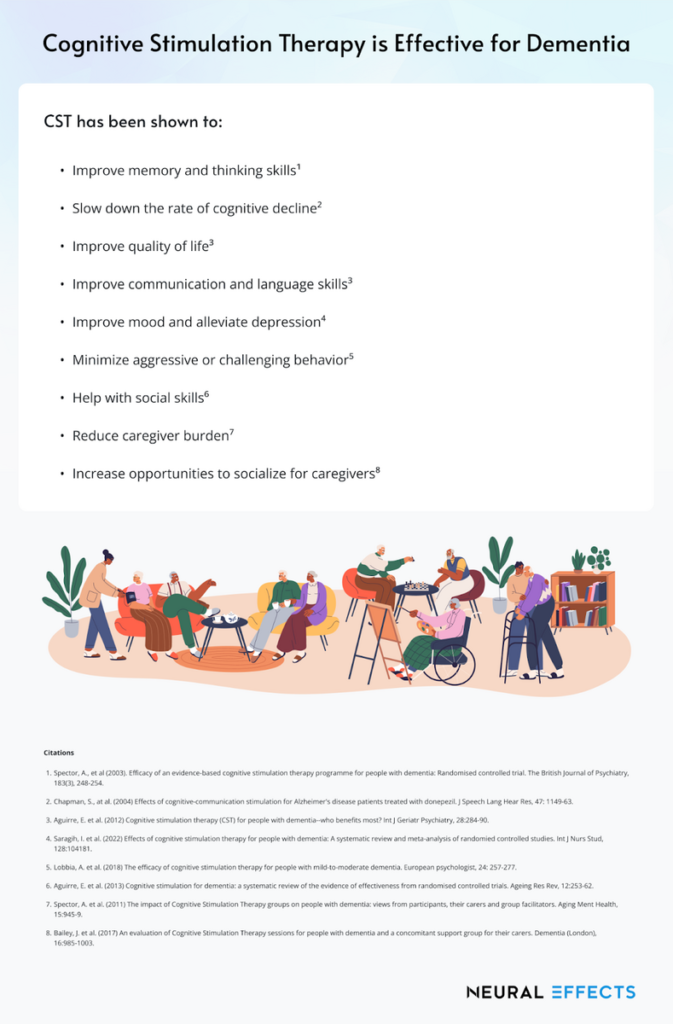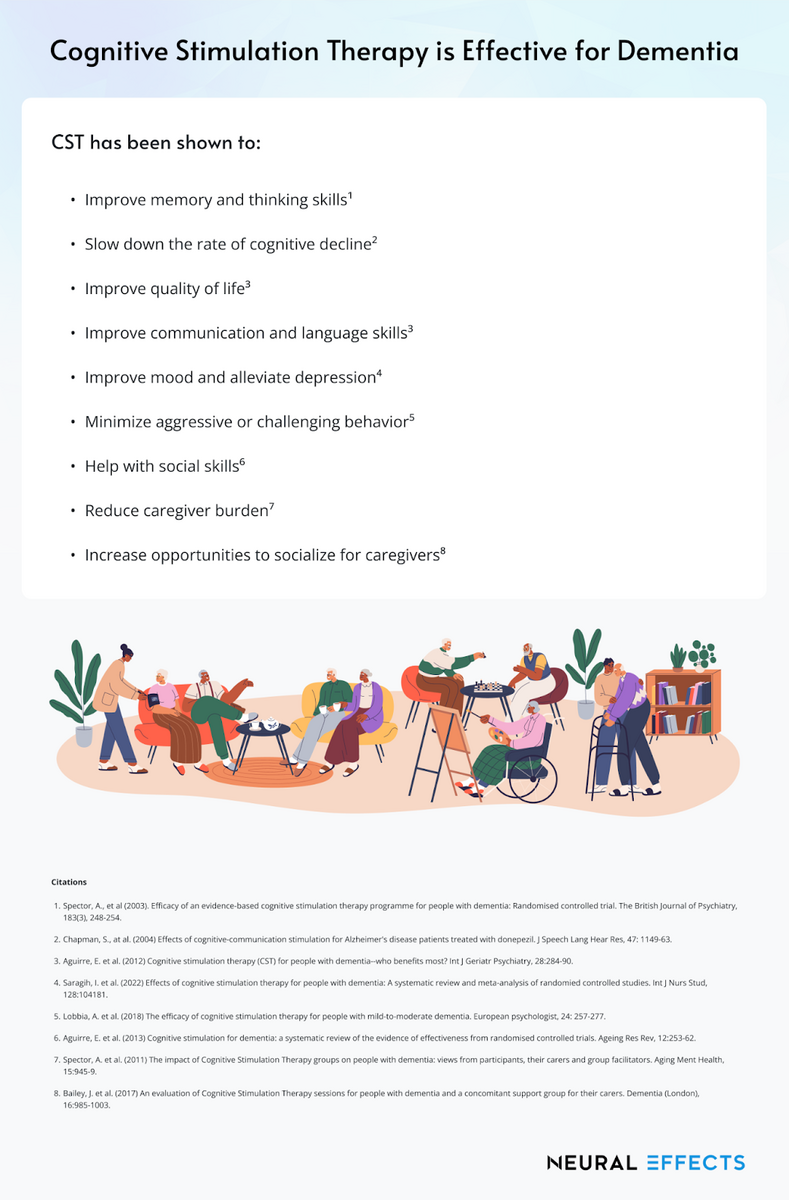 Patients at our memory clinic must complete a neuropsychological exam (also called a neurocognitive evaluation) to find out how dementia has affected their cognitive skills. Even patients who already have a dementia diagnosis need to complete this exam. Our therapists conduct tests to assess cognitive, physical, and psychological symptoms. Testing usually lasts around 2 to 2.5 hours.
Once this exam has been completed, our team writes a cognitive care plan (CCP). All patients who are assessed at Neural Effects receive a CCP. Even if patients don't have dementia, the report still includes valuable information that can help them protect their cognitive health and understand their risk of developing dementia at a later stage.
The Cognitive Care Plan includes:
A brief synopsis of the patient's medical history
Results from the assessment
Risk factors and how the disease is likely to progress
Lifestyle changes that may help the patient
Ways the family can get involved
Recommended treatment options at Neural Effects
When patients choose to start treatment with us, they attend 14 one-hour long group therapy sessions. Sessions run twice a week over seven weeks, each covering a different theme.
Sessions start with 10-15 minutes of supervised aerobic exercise, typically done on a stationary bike, and then patients move on to CST. During these sessions, patients may engage in group discussions about current affairs, do puzzles or crosswords, play cognitive games, or do arts and crafts projects. The aim is to improve the patients' cognitive skills such as memory, focus, and language. We've written in more detail about the benefits of cognitive stimulation therapy (CST) here.
At the end of treatment, our therapists may recommend further therapy. If that's the case, we refer patients to the appropriate specialists, such as neurologists, physical therapists, or psychologists.
Finally, family support is also an important part of our program. Family members and caretakers are invited to attend the first session with the patient to learn about cognitive stimulation therapy and repeat the exercises at home. Our therapists can also suggest local support groups and educate caregivers about lifestyle changes that can help their loved ones.
The earlier you can start therapy, the better; it gives you a fighting chance to slow down decline from dementia.
Neural Effects uses the latest evidence-based techniques to diagnose and help dementia patients. We are located in Provo, Utah, and serve anyone in Salt Lake County or the Utah County area. We are in network for most types of medical insurance. Schedule your evaluation today.
Other Non-Pharmacological Alternatives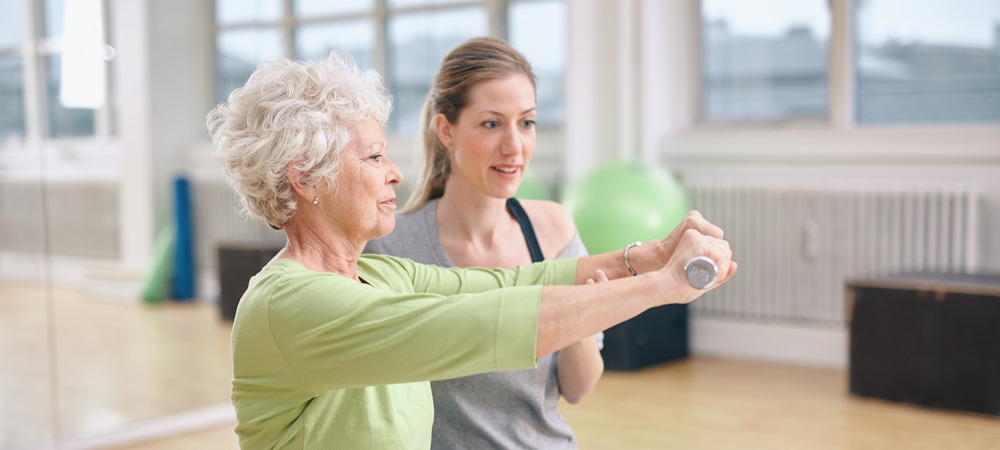 In addition to our treatment at Neural Effects, there are many other non-pharmacological alternatives to donepezil, all the way from mild dementia treatment to strategies for advanced patients. We've written in detail about these therapies in other articles, but we'll include a quick rundown of the most common types of therapies here.
Therapies to Address Emotional Problems
These therapies are designed to help dementia patients deal with mental health and other behavioral or emotional issues.
| Type of Therapy | How It Works | Scientific Evidence |
| --- | --- | --- |
| Talk therapy (including Cognitive Behavioral Therapy, CBT) | Patients can discuss how they feel with a counselor, a psychologist, or a psychiatrist. Suitable for patients in the early stages of the disease. | Improves anxiety, depression, and quality of life in patients with mild cognitive impairment and dementia. |
| Reminiscence therapy | Patients remember past events with the help of videos, music, photos, and any objects that hold a special meaning for the patient. | Improves mood, behavior, and cognition. |
| Validation therapy | Therapists accept the patient's reality without correcting or reminding them about the date or where they live, for example. Suitable for patients in middle and late stages of the disease. | Results are mixed; some patients respond well while others didn't see any benefits. |
| Massage & aromatherapy | Therapists use different oils to reduce stress and improve well-being. | Can have a calming effect and help with behavior in some patients. |
Therapies to Address Cognitive Problems
These therapies aim to slow down the decline of cognitive function. In general, these therapies improve cognitive skills, help with behavior, and stimulate social interaction.
| Type of Therapy | How It Works | Scientific Evidence |
| --- | --- | --- |
| Speech and language therapy | Designed to address communication problems caused by dementia, including voice and speech problems, as well difficulty reading or following a conversation. Suitable for patients in the early stages of the disease. | Patients improve understanding of spoken and written language, as well as expressing thoughts. |
| Reality orientation training | Therapists repeat basic information, such as the patient's name, where they live, date, and other relevant information. | After therapy, patients find it easier to remember information such as date and time and also experience small improvements in cognition and behavior. |
Therapies to Address Physical Problems
Physical problems with balance and posture are common in dementia patients. These therapies are designed to help with fitness and strength, with the aim to reduce the risk of falls and improve how the patients can carry out their daily activities.
Type of Therapy
How It Works
Scientific Evidence
Physical therapy (physiotherapy)
The aim is to encourage physical activity with gentle exercises to help patients maintain independence for longer.

Improves

both physical and cognitive skills, reduces the risk of falls, increases muscle strength, and improves mood.
Occupational therapy
Therapists help patients preserve their independence by improving their ability to perform activities of daily living and adapt to their living environment.
Improves patients' daily functioning and reduces the burden on caregivers.
Bright light therapy

Patients sit in front of a light box that provides about 30 times more light than the average light. The aim is to restore the patient's natural body clock.

Improves mood and communication skills, as well as reduces anxiety and improves sleep.
Therapies to Cognitively and Emotionally Stimulate Dementia Patients
These therapies offer opportunities to engage the senses and socialize with others by using recreational activities such as doing arts and crafts, interacting with pets, listening to music, and more. These interventions improve mood, decrease behavioral problems, and encourage social interactions.
| Type of Therapy | How It Works | Scientific Evidence |
| --- | --- | --- |
| Sensory stimulation therapy | Therapy designed to help patients remember positive emotions with the help of their senses.This could be baking their favorite cake or giving them a bouquet of their favorite flowers. | Improves cognition, mood, and self-esteem, while keeping the patients safe and relaxed. |
| Art therapy | Patients are encouraged to do arts and crafts, such as painting, sculpting, drawing, or making jewelry. | Boosts cognitive function, improves communication, and helps patients socialize with others. |
| Music therapy | Patients can learn to play a musical instrument, sing, or simply listen to music. | Improves behavior, lowers anxiety, and controls agitation. |
| Pet therapy | Patients interact with animals, such as petting them or taking them for a walk. | Reduces agitation and improves mood. It also promotes social interactions if done as a group and stimulates physical activity for patients who can still go out and play with an animal. |
| Doll therapy | Patients hold a doll (or other toys) and discuss past events. Suitable for patients in the late stages of the disease. | Improves communication, promotes social interaction, and reduces the need for antipsychotic drugs. |
Further reading: What can make dementia worse
Lifestyle Changes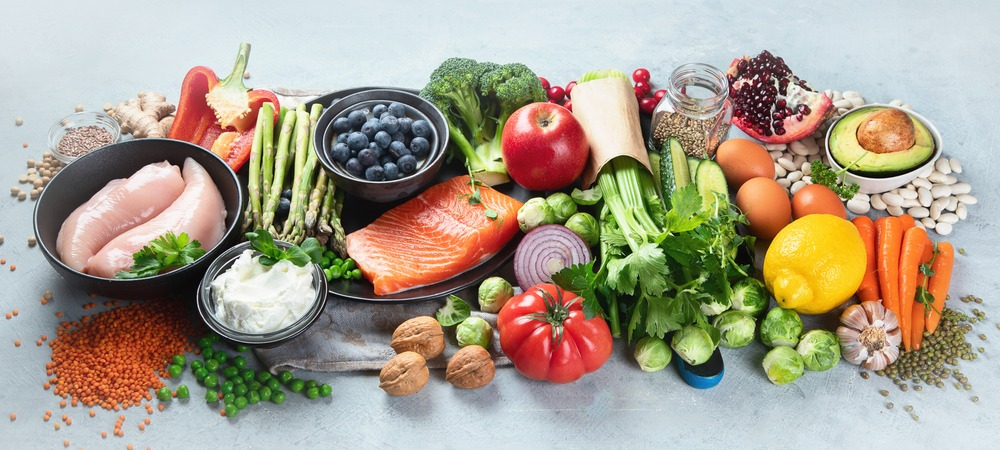 There is also strong evidence to suggest that certain lifestyle changes can be just as effective in slowing down cognitive decline as prescription drugs, including donepezil.
Follow a Healthy Diet
Following a healthy and balanced diet can slow down progression of symptoms in dementia patients.
The Mediterranean-DASH Intervention for Neurodegenerative Delay (MIND for short) diet was specifically designed to improve brain function. This diet encourages consumption of green leafy vegetables, berries, nuts, whole grains, fish, and poultry while avoiding red meat, dairy products, sweets, and fried food. Studies show that patients following this diet experience a slower cognitive decline equivalent to 7.5 years.
Other alternatives include the Mediterranean diet and the Dietary Approaches to Stop Hypertension (DASH) diet. These are similar to the MIND diet and recommend eating plenty of fruits and vegetables but not sugary and fatty processed food.
Choose the Right Dietary Supplements
In addition to a healthy diet, dementia patients can use a variety of dietary supplements and herbal remedies. These include, for example, polyunsaturated omega-3 fatty acids, a variety of vitamins and minerals, and products like ginkgo biloba extract, ginseng, turmeric, or curcumin.
In an article on natural dementia treatments, we've covered all of these and more, looking at how they work and the evidence to support each one. If you decide to try any of these products, seek medical advice from a reputable healthcare provider before making the change.
Engage in Regular Exercise
Patients with dementia should also engage in regular exercise. Ideally, this should be exercise that increases your heart rate, which in turn improves blood flow to the brain and helps cognitive function. Regular physical activity also reduces the risk of cardiovascular problems and diabetes, lowers blood pressure, strengthens bones and muscles, reduces stress, and helps patients sleep better.
Patients should aim for at least 30 minutes every day, five to seven days a week. For patients who are not used to physical activity, it's better to start with 10 minutes a day and gradually increase.
Challenge the Brain
Keeping the brain active is another way to prevent cognitive decline in dementia patients. This needs to be an activity that the patient enjoys and is still capable of doing without getting frustrated. It can be anything as long as it requires some mental stimulation. Learning to play a musical instrument, memorizing the grocery list, or playing board games are all good examples.
Stay Socially Active
It's easy for dementia patients to become isolated from friends and family, which further aggravates cognitive decline. Maintaining an active social life is key to reducing the risk of developing anxiety, depression, and aggressive behavior.
There are many ways to ensure the patient is in contact with loved ones. Going out for a coffee with friends, joining a local club for dance lessons, or simply having a chat over the phone with a family member are all good options. There are also support groups for dementia patients and their caregivers that organize social activities and exercise sessions.
Follow Good Sleep Patterns
It's common for dementia patients to experience sleep disturbances. Although some patients may need to take sleeping pills occasionally, we do not recommend their long-term use. Instead patients can try to:
Keep a bedtime routine where they go to bed and get up at the same time every day, including holidays and weekends.
Avoid day time naps longer than 20-30 minutes.
Avoid caffeinated drinks, smoking, and alcohol late at night.
Keep the bedroom dark, quiet, and not too hot to help patients fall asleep.
Avoid screen time before bed. The blue light from screens affects the body's internal clock and makes it harder to sleep.
Consider taking melatonin. Melatonin is available over the counter as a liquid, pill, or transdermal patch. Patients may start a low dose about 30 minutes before bed and adjust as needed. Consult a healthcare professional before starting use.
Neural Effects uses the latest evidence-based techniques to diagnose and help dementia patients. We are located in Provo, Utah, and serve anyone in Salt Lake County or the Utah County area. We are in network for most types of medical insurance. Schedule your evaluation today.